the crazy horse electric game
Synopsis
Willie is a top athlete, the star of the legendary game against Crazy Horse Electric. Then a freak accident robs him of his once-amazing physical talents.

Betrayed by his family, his girlfriend, and his own body, Willie's on the run, penniless and terrified on the streets, where he must fight to rebuild both his body and his life.
Reviews
"Without mincing words, [Crutcher] composes harsh realities with images that sometimes take your breath away-and sometimes make you belly-laugh in astonishment and delight .... The story is a poignant telling of courage, the struggle to survive life on all levels, and an examination of values once held dear."
~ Children's Literature

"The characterization in this book is wonderful; the reader can picture each person introduced, whether it be an amazingly bizarre schoolmate known as Telephone Man, or Dr. Hawk, a huge street dude who initially terrified Willie .... It's authors like Chris Crutcher who make our job of 'selling books' that much easier."
~Voice of Youth Advocates
Awards & Honors
ALA Best Book
SLJ Best Book
1990 South Dakota YARP Best Books List
Powered by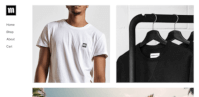 Create your own unique website with customizable templates.